Freitag, 11. Juli 2008
On TMC and the Kaffee-Netz I expressed that I'd love to taste some of the Panama Hacienda Esmeralda Special Batch 5 (see the auction result). You can guess my puzzled face when I opened a parcel from Austria that was eagerly awaited: my latest shipment from Walter that not only contained my order, but also this little gem: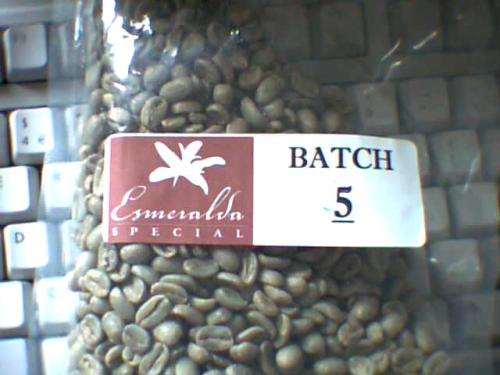 Yes, Walter really sent me one of his last samples of the Batch 5! I can't wait to get my hands on a sample roaster and finally try it out. Thank you so much Walter, you made my day (and probably the days of the next weeks also. And after that the next months, until I can actually order that coffee from you, when you'll make my days again!)! Oh and by the way, your 'special blend' tastes damn fine (I'll get back to that once I had a few more shots of it)!
I'm stunned. This is just awesome!