Samstag, 5. Januar 2008
I've been digging more into homeroasting the past few weeks and am amazed that I constantly learn new things, new tastes and surprising facts. For example the El Salvador Finca La Fany: I've had it quite a while ago when I was still using the old Gaggia Coffee and MDF grinder, and I was totally unable to pour a shot from it that was at least drinkable. Medium dark roasted back then, all I got was citric acid on my tongue (that's how it felt like). Based on the taste descriptions, I ordered some again and roasted it myself (into 2nd crack, with heavy ventilating to get the smoke off the beans, roast time around 19 minutes (a tad too long I believe)). And this proved to be another of these wow-coffees on my LaCimbali: Very tasty, creamy with a great mouthfeel, a little citrus (I tried it a bit too early after the roast) and very sweet. Yummy. A very welcome change to the Yemen Matari I've had very much of - the Matari is such a heavy coffee that you get tired of it very soon (at least for the late-afternoon drinks).
On a completely unrelated note, I love this picture my dad took on what would have been the most beautiful day of the year in decembre 2007: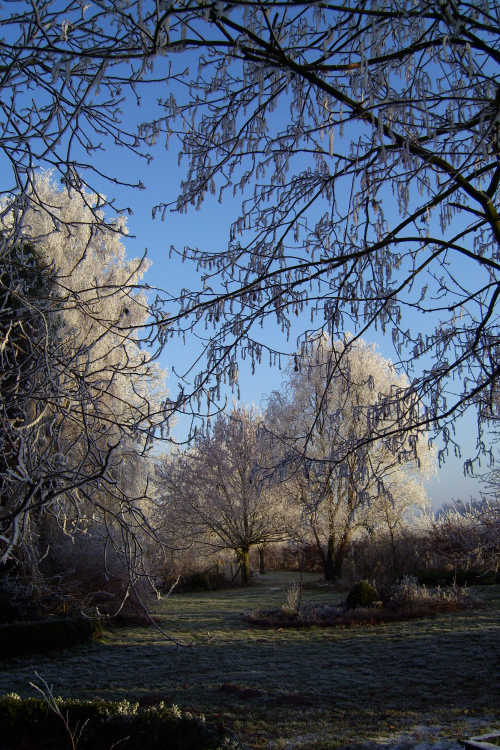 I've also got a bag of my last years competition blend and I must say I still quite like it (when it's a few weeks old that is - too fresh, as it was during competition, it's way tough stuff, too old it's just boring). Not the kind of coffee I'd drink every day (it's a tad bit tough and unbalanced for that), though in milk drink it shines for me.
Before christmas I had the wonderful opportunity to roast a batch of Costa Rica CoE Libano (from Walter) on a Probat sample roaster - Thanks Mario! - but I wasn't very satisfied with the results in the cup. Probably it roasted too long (there seems to be a pattern here with me), although just into 2nd crack (another pattern?). I put the rest of the batch in the grinder and lucky as I am hit the grind spot-on for a very very very lovely espresso. I'd love to experiment more with this bean, there seems to be a lot of potential for great coffee and espresso, though I fear with my home-roasting device all I can experiment is a trial-and-error kind of thing - I can't really speak of reproduceability right now. Maybe that will change in the future - who knows? ;)
If you've got this far - thanks for reading! I'd love to know who actually reads my blog. Please, leave a comment!